CURRENT EXHIBITION:
Aug 13 - Aug 27, 2020: MICHAEL HERMESH: Who Are We?
Click on the image to view the show.
The show features a glimpse at Michael's perspective on the nature of human behaviour. Painting in image is titled: The Descent Beckons as the Ascent Beckoned May 2020. The bronze sculpture is Life Without the Ferryman, ed/15. 32x11x6.5 inches
---
RECENT EXHIBITION:
July 9-23, 2020: ROBYN LAKE - New work: Our Okanagan Lifestyle
"An intimate look at the landscape I am so grateful to be part of" - Robyn Lake.

(Click on the image to enter the show.)
Would you like to meet the artist? ROBYN LAKE will be painting outside in front of The Lloyd Gallery from 10am-2pm on SATURDAY JULY 11. This 40" high x 120" long triptych oil on gallery wrap canvas painting ready for the show is titled "This Land that I Love". Please note: There is no official opening of the show, to keep in mind the social distancing recommendations. You are most welcome to come to the gallery to view this show in person during the show dates. Out of town collectors: email us an image of your room and we would be pleased to digitally install a painting that you might like to collect. Thank you for collecting Robyn Lake's art.
---
RECENT EXHIBITIONS:
June 18 - July 2, 2020: ANNE-MARIE HARVEY - The Spirit of People and Place
Some of the show works are still available.

Click on the image to view the show.
The show features landscapes of the Okanagan and a glimpse at the people who live there, This 36 x 48" oil on canvas is titled Happy Hour, Allendale Road.
---
May 28-June 11, 2020: ERICA HAWKES - New Nouveau 7 work
Some of the show works are still available.

Click on the image to view the show.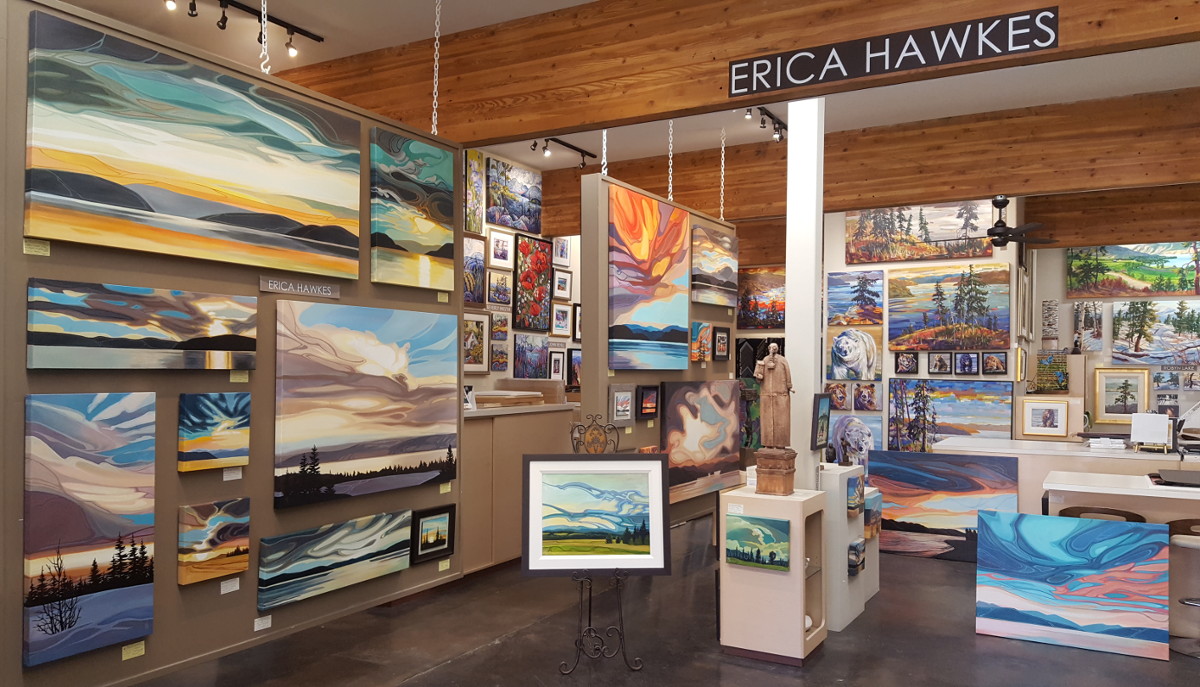 We have been looking forward to sharing Erica Hawkes latest series of Nouveau 7 landscapes with you. Thank you for collecting from this show and Erica's collection of paintings.
---
APRIL 30, 2020: GROUP SHOW - Perspectives
There are still paintings available in this show.

Click on the collage to view 75 recent paintings by 29 artists.
Gallery Group Exhibition featuring new work by all artists. This show's theme is PERSPECTIVE: per·spec·tive (/pərˈspektiv/) noun 1.the art of drawing solid objects on a two-dimensional surface so as to give the right impression of their height, width, depth, and position in relation to each other when viewed from a particular point. 2.a particular attitude toward or way of regarding something; a point of view. This was the original theme for this show, however it has morphed into a more relaxed theme of accepting whatever new work the artists wanted to contribute, in light of our collective new 'normal' in COVID19 isolation. Click on the image on APRIL 30, 2020. (show links at 9am PST) Refresh your page if it doesn't show.
---